Enforcement needed to keep pedestrians safe: Haté
By Tony Poland, AdvocateDaily.com Associate Editor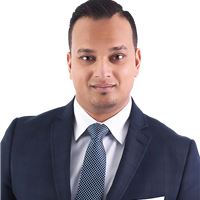 Increased fines are not enough to prevent careless drivers from endangering pedestrians, says Toronto personal injury lawyer Rohan Haté.
"I handle a lot of automobile-pedestrian accidents, and I find that the majority of those are caused by distracted driving," says Haté, partner with McPhadden Samac Tuovi Haté LLP. "Many times pedestrians, even crossing on a crosswalk where they have the right-of-way, still end up getting hit if the driver is just not paying attention.
"One of the more common things I hear is about distracted driving. People are using their cellphones, texting, and emailing, and that's something that comes up frequently."
Last fall, the Ontario government announced tougher penalties for careless driving and endangering pedestrians.
Those convicted of careless driving causing bodily harm or death face fines ranging from $2,000 to $50,000, six demerit points on their licence, licence suspension for up to five years and the possibility of up to two years in jail.
Penalties were increased for drivers who fail to yield to pedestrians at crossovers, school crossings, and crosswalks, with a maximum fine of $1,000 and four demerit points.
"Time and time again we've seen families devastated because a loved one is hurt or killed by a dangerous driver, and the driver walks away with no more than a slap on the wrist," then Minister of Transportation John Yakabuski said in a statement. "The number of pedestrians being injured and killed on our roads has reached a critical level."
At the beginning of 2019, the provincial government also increased penalties for distracted drivers, with those caught talking, texting, dialing or emailing using a hand-held device facing fines of up to $1,000 with a three-day licence suspension and three demerit points. The penalties increase for drivers with repeat offences.
"What was also beneficial was the increase in demerit points," Haté tells AdvocateDaily.com. "Most drivers may be able to pay the increased fines, but the demerit points are what really gets people because your insurance will go up and you may not be insurable. That hopefully will be a deterrent."
However, he says increased penalties are only one part of the equation.
"The real issue is they've changed the rules but how often are they issuing tickets or laying charges for these offences?" Haté asks. "That's something that should be looked into: How is it being enforced because, in order to really act as a deterrent, it has to be enforced."
Using the HOV lanes on a highway as an example, he says drivers would often ignore the rules and drive in them without the required passenger. But when police started cracking down, people got the message.
"If there's more enforcement of distracted driving we'll hopefully see a change," Haté says
He says pedestrians should never assume they are safe at crosswalks or in school zones and take precautions when crossing the street.
"Look both ways. One of the things I see many people doing is they have headphones on while walking," Haté says. "When you're crossing the street, don't have the headphones on, or if you do, don't have the volume turned up loud because you need to be aware of your surroundings. As a pedestrian, being aware and alert can be the difference between life and serious injury or death."
Article Courtesy: https://www.advocatedaily.com/rohan-hat-enforcement-needed-to-keep-pedestrians-safe-hat.html
---